Tuesday - September 20th - Green then she Blew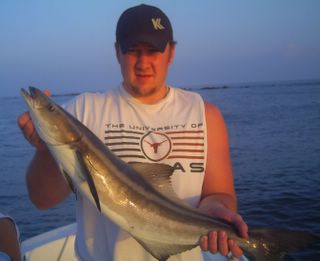 We had a short trip Tuesday out to the Jetties. Dewey and I took Lorri and Brandon early Tuesday Morning. The water was very calm - light breeze - Water was 85.7 and beautiful at the end of the Jetty with alot of baitfish popping.
It promised to be a good day - - - but - - - first Lorrie turned green - then she blew. We went inshore a bit more thinking that might help - - - green then she blew again.
So we called it a day. In the short time Brandon caught a nice 34" Ling and we caught several small shark. I am not saying it was a short trip - but when we made it back to the Truck the coffee in my travel mug was still hot!
By the way .... and remedies for Sea Sickness once you are on the boat? I found that talking about Chili-cheese tator tots doesn't help..... (grin)