Tuesday - March 22nd, 2005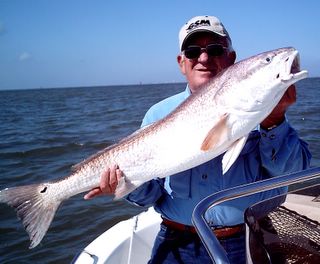 What a frustrating day. Right Place - Right Time - Right Tackle - Wrong Bait.
We have caught Reds and Black Drum fairly consistantly with cut shad over the past few weeks. We stopped in at Boyd's and picked up Shad - they were out of crab - and we didn't mess with Shrimp. BIG STINKING MISTAKE.
Everyone around us was racking up on the drum - Dewey caught this 41" Red - It was the only fish of the day! (Other than a whiting) Finally - out of frustration - we just dumped our bait and came in. Lesson Learned.