August 1st - Offshore Out of Freeport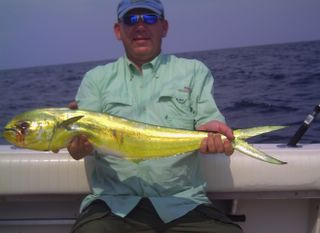 On Monday, August 1st, Dewey and I were invited to head Offshore out of Freeport. We fished with the Hamiltons - a new family in our church.
We caught good fish, had a great time, but man ... was it a long day! It definately made Dewey and I appreciate our shorter trips to the Jetty!
This was a nice dolphin that I caught drifting a weed line. It was my first Dolphin! Definately alot of fun. We caught several chicken dolphin also on the day!